Zebra Class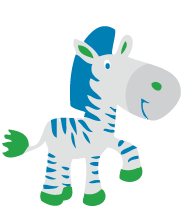 A big welcome to Zebra Class
Katie is the class teacher and Lauren is the Learning Support Practitioner.
We learn in a fun and exciting way in Zebra Class and, like in Giraffe Class, our learning continues to occur both inside and outside of the classroom.
We love learning about animals and dinosaurs, seasons and the weather (some of our exciting topics!) through a hands-on approach and we take pride in everything that we do.