Zebra Class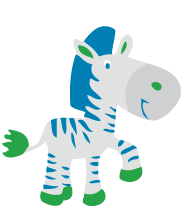 A big welcome to Zebra Class where Holly is the class teacher (currently covering for Emily) and Jess and Katherine are the Learning Support Practitioners.
We learn in a fun and exciting way in Zebra Class and, like in Giraffe Class, our learning continues to occur both inside and outside of the classroom.
We love learning about animals & dinosaurs, seasons and the weather (some of our exciting topics!) through a hands-on approach and we take pride in everything that we do.