Giraffe Class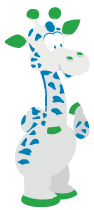 Welcome to Giraffe Class where Maisie is the class teacher and Lauren and Christina are the Learning Support Practitioners.
In Giraffe class we learn in a hands on, fun and diverse way. We actively encourage children to be independent and take control of their own learning.
Children are given a wide variety of opportunities to make choices for themselves alongside directed learning activities.
We have many exciting adventures throughout the year including pirate parties, making mini beast houses, building airports, exploring music and colour through artists work, gardening and we even receive letters from Africa inviting us all to join a jungle dance with all the African giraffes.
Come and join in the fun!