Crocodile Class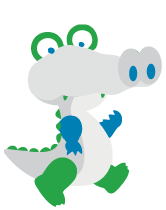 Welcome to Crocodile Class, where Chris is the class teacher and Leo is the Learning Support Practitioner.
Crocodiles love being creative. We really enjoy learning about the Romans and Celts, and all about electricity as well as going on exciting trips to Ufton Court, Kingston Museum and the National Archives. We also learn a brass instrument during our music sessions.
Home Learning is handed out weekly on Thursday. Books are changed on Thursday as well.
Spellings are tested on Wednesday and Times Tables are tested every Friday. We aim to learn every multiplication and division fact up to 12 x 12 by the end of the year. To get ahead, try some fun times tables games!
We hope you enjoy seeing all the exciting things we do in Crocodile Class.
See the base of this page for useful class information.
Ancient Rome
Did you know the Romans were skilled fighters who built a massive empire.
Lots of video from the History Chanel about Ancient Rome.
http://www.history.com/topics/ancient-history/ancient-rome
Facts about Ancient Roman
http://www.primaryhomeworkhelp.co.uk/Romans.html
Fun facts for kids including various games
http://www.ngkids.co.uk/history/10-facts-about-the-ancient-Romans
http://www.bbc.co.uk/schools/primaryhistory/romans/
http://www.primaryhomeworkhelp.co.uk/Romans.html
Local History - Richmond & Kew
The Richmond Local History Society website http://www.richmondhistory.org.uk/wordpress/events/exhibitions/
Kew History Notes (from Ricmond Council website)
http://www.richmond.gov.uk/local_history_kew_palaces.pdf/
Lots of facts all about Kew
http://www.kew.co.uk/History_of_Kew.htm
River Thames and its history
http://resources.woodlands-junior.kent.sch.uk/customs/questions/london/thames.htm
History of people and buildings
http://www.richmond.gov.uk/local_history_notes
Link to Kew Gardens website
http://www.kew.org/visit-kew-gardens
http://www.kew.org/visit-kew-gardens/explore/attractions
Kew Gardens Wikipedia
https://en.wikipedia.org/wiki/Kew_Gardens
History In Kew
http://www.kew.org/science-conservation/collections/library-art-archives/history-library
Historic Royal Places
http://www.hrp.org.uk/KewPalace/sightsandstories/buildinghistory/thebeginingsoftheroyalbotanicgardens
All about Kew Village
http://kewvillage.org/kew-a-potted-history/
Mortlake Crematorium Picture Slideshow
http://www.mortlakecrematorium.org/gallery/
Mortlake Crematorium Facts
http://www.mortlakecrematorium.org/history-and-the-board/
http://www.mortlakecrematorium.org/the-cremation-service/
BBC Kew History
http://www.bbc.co.uk/search?q=kew%20history